Apple offers three distinct Apple Watch models. Here's a quick rundown of what sets each one apart.
Apple's lineup now includes three Apple Watch models: the Series 8, the SE 2 (Gen 2), and the Ultra. Gone are the days of the Series 7, SE (Gen 1), and Series 3 which they had until September 2022. If you're rocking an older Apple Watch and curious about an upgrade, we'll shed light on the main differences among all models that can still vibe with the latest watchOS. So, we're talking about Series 4 and up. Let's dive in!
Honestly, all Apple Watches from the past four years have been pretty much in the same ballpark, with the Ultra being the rugged outlier. They all sport the same watchOS, have a similar look and feel, and promise that 18-hour "all-day" battery magic. When it boils down to picking one, it's about whether you fancy the newer design, an always-on screen, some unique health perks, and of course, how deep you're ready to dig into your pockets. (Oh, and Apple's got some sweet deals on refurbished older models, just saying.)
What's Next for the Apple Watch
Apple usually drops a new Apple Watch in September, and there's buzz about the Series 9 being next in line. Rumor has it that it might borrow a few tricks from the Ultra, like the Action button and a more boxy look. But hey, it's all just chatter for now. What we can bet on? Some beefed-up internals - maybe the S9 chip, and perhaps those fancy dual-frequency (L1 and L5) GPS chips. The Ultra currently boasts these, making GPS tracking for workouts super precise.
Speaking of the Ultra, word on the street is that Apple may be adding lightweight 3D printed parts as well as a new black titanium finish. Of course we could expect any second generation Apple Watch Ultra to feature the new S9 processor.
The New Apple Watches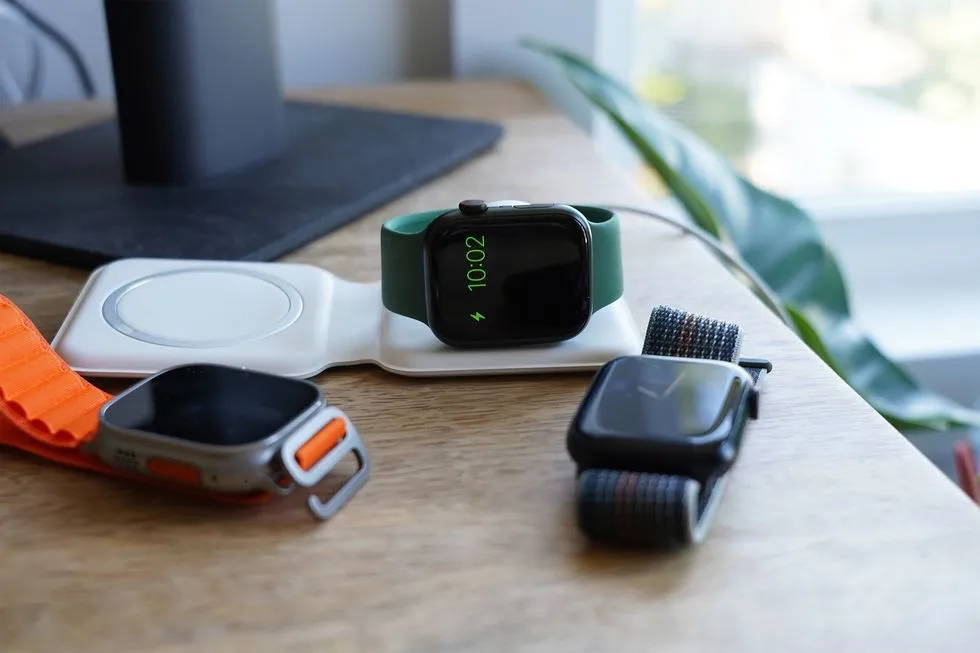 Apple Watch Series 8 (2022)
Pros
Cons

Always-on display

More health and wellness features as the SE

Substantially more affordable than the Ultra

Same look and feel as Series 7

$150 more expensive than the SE
The Series 8 feels like a twin to the Series 7 from last year. They share the same design vibe, display, battery longevity, and price tag. However, the Series 8 isn't just a mere duplicate. While it packs a fresher, speedier processor, it also boasts some extra health and safety perks. For one, it has a shiny new body temperature sensor, mainly tailored for women to monitor their cycles. Plus, there's a neat car crash detection feature, amped up by enhanced sensors like accelerometers and gyroscopes.
Should you buy it?
For the majority seeking the top Apple Watch, the answer's a definite "yes." But if you're rocking a Series 7, the jump to Series 8 might feel like a short hop in terms of noticeable changes.
Pros
Cons

The biggest and brightest display of any Apple Watch

Action button is a key addition

Exclusive features for runners

Most capable and feature-packed Apple Watch ever

Significantly more expensive than the Series 8

Will be too big for some people
The Ultra burst onto the scene in 2022 as Apple's latest and greatest. It stands out as the largest, most vibrant, toughest, and all-around best-performing Apple Watch ever, all while carrying the heftiest price tag. Tailored for the thrill-seekers, from hardcore athletes to casual scuba enthusiasts, it's also the go-to for anyone craving Apple's pinnacle in smartwatch tech. Oh, and for those who fancy a really spacious (49mm) screen!
Should you buy it?
The Ultra stands as Apple's crowning jewel in smartwatches – it's their grandest and greatest. But with its top-tier price tag, you'd want to ensure you'll utilize its bonus features. If not, the Series 8 might be a more value-for-money choice.
Pros
Cons

Same look and feel as the Series 8

Shares most of the same features as the Series 8

The most affordable Apple Watch

No always-on display

Same look and feel as first SE

Lacks some health and wellness features
The latest Apple Watch SE closely mirrors its 2020 version in design and most functionalities. While it does flaunt a fresher processor and some trendy new colors, its standout change is the price drop – now kicking off at $249. However, when you stack it against the Series 8, the SE does miss out on features like the always-on display and a slew of health perks, such as cycle and sleep tracking.
Should you buy it?
Absolutely! It's an excellent starter smartwatch and offers the best bang for your buck in the Apple Watch lineup.
Read More